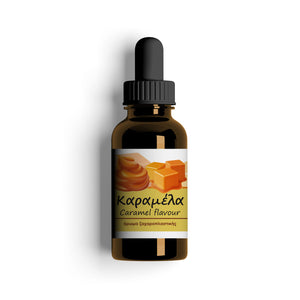 Caramel Flavor in liquid form - Water soluble - for use in Confectionery
Origin: Germany
Packaging: 10ml glass bottle with dropper
This particular caramel flavor has a full, buttery taste with sweet notes of vanilla and aromas of brown sugar. It can be used instead of vanilla flavor in all recipes.
where can i add caramel flavor?
Caramel goes well with spices such as cinnamon and ginger, with recipes based on apples, as well as with desserts containing alcohol (a little liqueur or rum). And of course it goes incredibly well with chocolate! Here are some recipe ideas to add caramel flavor:
in tiramisu
in apple tart or apple pie or apple cake
in handmade jams
in cinnamon cookies or gingerbread cookies
in desserts with peanut butter
in creams or chocolate mousse
in brownies
in banoffee
in desserts with pumpkin
in buttercream and glazes, icings, toppings
in batter for doughnuts, pancakes or waffles
in handmade energy bars
in any chocolate recipe
in handmade chocolate bites
in cupcakes and muffins
in your coffee or tea (1 drop is more than enough!)
Type: Water soluble - Dosage: 1 to 1000
That is, for 1000ml of mixture (eg cake dough) we will use 1ml of caramel flavor. Pay attention to the dosage, do not overdo it, as our flavors are very concentrated and have a very strong effect. Do a test with a few drops and if necessary, increase the dosage until you reach the desired taste.