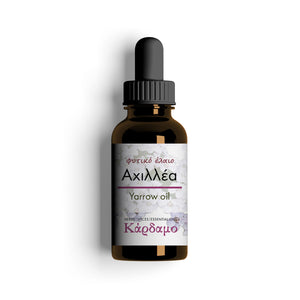 Achillea millefolium
Country of origin: EU
Dropper bottle of 30ml
Yarrow liposoluble extract
Yarrow took its name from the hero of the Trojan war, Achilles (Achillea millefolium). When Achilles was wounded on the heel by an arrow, the goddess Aphrodite, while crying, urged him to put the best herb for wounds, yarrow. Achillea millefolium is also known as the tear of Aphrodite, in Greece.
Yarrow oil contains chamazulene (a substance released during distillation). This is the substance responsible for the blue-green colour of the oil, as well as its antiseptic and anti-inflammatory properties.
Yarrow has been considered as one of the best healing herbs since ancient times. It accelerates the wound healing process and relieves from burns, rashes, eczema, psoriasis and insect bites. Its astringent action helps to regulate the oil production of the skin and to reduce acne. Yarrow oil also prevents the formation of stretch marks and age spots.
Yarrow liposoluble extract with its anti-inflammatory action, can relief aching joints and muscles caused by arthritis and rheumatism. It is an excellent analgesic massage oil.
The medical information on our website is not advice and should not be treated as such. You must not rely on the information on our website as an alternative to medical advice from your doctor or other professional healthcare provider.