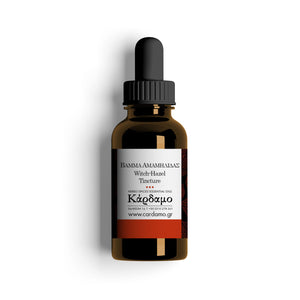 Hamamelis virginiana
Country of Origin of Raw Material: France
Dropper bottle of 30ml
Witch-hazel tincture contains tannins which offer amazing healing, astringent and anti-inflammatory properties. It can be consumed orally, as all the other tinctures, or it can be applied directly on the affected area.
Witch-hazel tincture has the ability to balance oily skin, treat acne, soothe irritations, accelerate wound healing and reduce bruises. It has astringent and antiseptic properties and can be applied on the skin to stop the bleeding and to prevent pathogens from entering the wound. It can also be used to relief from hemorrhoids, sunburns and insect bites as it reduces the itching and burning sensation. Witch-hazel tincture can also reduce swelling and is recommended in cases of phlebitis and varicose veins (apply compress on the affected area). 
Witch-hazel tincture is beneficial in treating acne-prone skin thanks to its anti-inflammatory action and also in soothing tired and inflamed eyes. It can be applied directly on the skin as a toner to cleanse and tighten the pores and to prevent acne breakouts caused by excess sebum.
Witch-hazel tincture can soothe the upset stomach and fight stomach inflammations caused by bacteria thanks to its anti-bacterial properties. It can also be beneficial in cases of dysentery and diarrhea, thanks to its astringent action.  
CAUTION! Valerian tincture should be avoided during pregnancy
Dosage: 15-20 drops three times a day when consumed orally, diluted in water.
Technical datasheet HAMAMELIS VIRGINIANA LEAF EXTRACT:
Ethanol content: 50,0 - 60,0 % v/v
Density: 0,910 - 0,950 g/ml

FREE from GMO (Reg. (EC) 1829/2003 and 1830/2003)
FREE from BSE/TSE (Transmissible Spongiform Encephalopathy)
GLUTEN FREE
ALLERGENS: Free from substances or products causing allergies or intolerances (Reg. (EU) 1169/2011 Annex II)
The medical information on our website is not advice and should not be treated as such. You must not rely on the information on our website as an alternative to medical advice from your doctor or other professional healthcare provider.