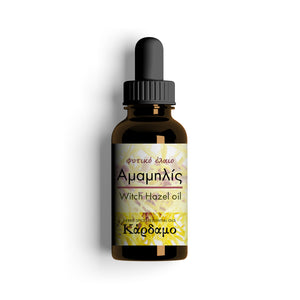 Hamamelis virginiana
Country of origin: EU
Dropper bottle of 30ml
Witch-hazel liposoluble extract
Witch-hazel oil is extracted by the flowers and the bark of Hamamelis virginiana plant. Its is mainly used for the treatment of skin diseases. Witch-hazel oil contains tannins which offer amazing healing, astringent and anti-inflammatory properties.
Witch-hazel liposoluble extract has the ability to balance oily skin, treat acne, soothe irritations, accelerate wound healing and reduce bruises. It can also be used to relief from hemorrhoids and insect bites as it reduces the itching and burning sensation. Witch-hazel oil can be applied to treat sunburns but also diaper rashes in babies.
Thanks to its astringent action, witch-hazel oil makes an excellent toner for the skin as it cleanses and tightens the pores. It can also be combined with a base oil, like almond oil, to create a make-up remover.
The medical information on our website is not advice and should not be treated as such. You must not rely on the information on our website as an alternative to medical advice from your doctor or other professional healthcare provider.