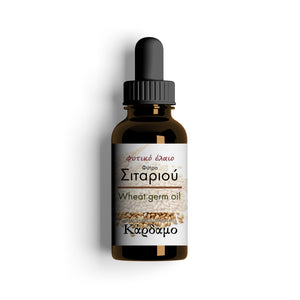 Triticum vulgare
Country of origin: EU
Dropper bottle of 30ml
Wheat germ oil is rich in nutrients as it is extracted from the part of the wheat kernel that helps the plant reproduce and spawn new wheat. It contains protein, fatty acids, Vitamins A, B, D, E. It is an excellent oil that has the ability to penetrate deep into the epidermis and nourish the skin.
Wheat germ oil is rich in vitamin E and has strong antioxidant and anti-aging action, preventing the formation of wrinkles, fine lines and age spots. It fights oxidative stress and skin damage caused by exposure to environmental pollutants. Wheat germ oil also eliminates the free radicals which are responsible for cell destruction and cell mutation. It is a valuable oil against premature aging.
Wheat germ oil promotes the formation of collagen and preserves the moisture of the skin. It can be applied in cases of eczema and psoriasis, to soothe skin irritation, to reduce inflammation and dryness and to accelerate the healing process of wounds. It also prevents the formation of scars.
Wheat germ oil can also be applied to nourish and moisturize the hair. It hydrates the scalp, by gently massaging it on the roots, and reduces dry dandruff and itching. It can also be applied to prevent the formation of split ends. 
The medical information on our website is not advice and should not be treated as such. You must not rely on the information on our website as an alternative to medical advice from your doctor or other professional healthcare provider.