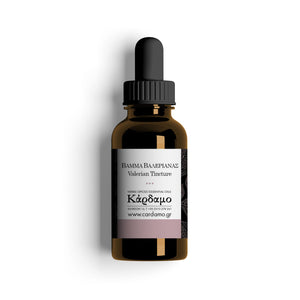 Valeriana officinalis
Country of Origin of Raw Materials: East Europe
Dropper bottle of 30ml
Valerian tincture has impressive relaxing abilities. It is effective against insomnia, it reduces stress and blood pressure and soothes period cramps.
Valerian tincture is perhaps most widespread for its effects on the quality of sleep. People suffering from insomnia or sleep disorders can use valerian to fight them. This root has strong sedative properties that act on the central nervous system, relax the mind and body and provide a quality night' s sleep.
Valerian tincture reduces the levels of stress hormones and allows the body and mind to reach relaxation. It is a powerful weapon against stress and it significantly reduces the symptoms of depression. Valerian tincture is also consumed to ease the symptoms of menopause such as mood swings, hot flashes and depression.
Valerian tincture is used by women during menstruation as it alleviates period cramps and fights both physical and psychological symptoms of the period. Its tranquilizing action regulates the hormones and fights the cravings during the period.
CAUTION! Valerian tincture should be avoided during pregnancy
Dosage: 30-40 drops 30 minutes before sleep for sleep disorders, diluted in water. 15-20 drops twice a day in cases of menopause, premenstrual syndrome and anxiety, diluted in water.
Technical datasheet VALERIANA OFFICINALIS RHIZOME/ROOT EXTRACT:
Ethanol content: 63,0 - 67,0 % v/v
Density: 0,880 - 0,910 g/ml

FREE from GMO (Reg. (EC) 1829/2003 and 1830/2003)
FREE from BSE/TSE (Transmissible Spongiform Encephalopathy)
GLUTEN FREE
ALLERGENS: Free from substances or products causing allergies or intolerances (Reg. (EU) 1169/2011 Annex II)
The medical information on our website is not advice and should not be treated as such. You must not rely on the information on our website as an alternative to medical advice from your doctor or other professional healthcare provider.