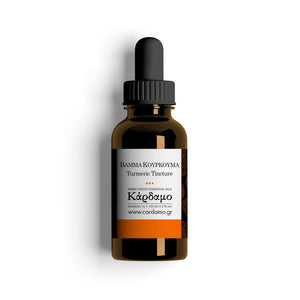 Curcuma longa
Country of Origin of Raw material: EU
Dropper bottle of 30ml
Turmeric root is one of the most effective anti-inflammatory gifts of nature. It contains valuable compounds called curcuminoids, but the most important of them is curcumin. Curcumin has strong antioxidant and anti-inflammatory action.
Turmeric tincture can be consumed to reduce the effects of oxidative stress and to neutralize the free radicals which are responsible for cell mutation and cell destruction that causes chronic diseases. Curcumin acts as a strong antioxidant which protects the organism from the free radicals and also prevents premature aging.
Turmeric tincture is beneficial in relieving joint pains and inflammations in cases of arthritis and rheumatoid arthritis thanks to its effective anti-inflammatory action. It can also treat inflammations of the colon in ulcerative colitis and stomach ulcers. Turmeric tincture can be consumed to soothe dyspepsia and relief from heartburn, bloating and gas accumulation. 
Turmeric tincture may reduce the severe itching associated with kidney disease, when urea levels are high and the kidneys stop working. Daily consumption of turmeric tincture may reduce the itching in this case.
Turmeric tincture is also beneficial for the cardiovascular system as it lowers cholesterol levels. It prevents the deposition of fat in the blood vessels and the formation of plaque in the arteries, making the flow of blood easier, and thus, preventing the formation of thrombi, the development of atherosclerosis, and the risk of a heart attack or stroke.
CAUTION! Turmeric tincture should be avoided during pregnancy
Dosage: 15-20 drops three times a day, diluted in water. 
Technical datasheet CURCUMA LONGA EXTRACT:
Ethanol content: 65 % v/v
Water content: 35 % v/v
Refractive index (25° C): 1,333

FREE from GMO (Reg. (EC) 1829/2003 and 1830/2003)
FREE from BSE/TSE (Transmissible Spongiform Encephalopathy)
GLUTEN FREE
ALLERGENS: Free from substances or products causing allergies or intolerances (Reg. (EU) 1169/2011 Annex II)
The medical information on our website is not advice and should not be treated as such. You must not rely on the information on our website as an alternative to medical advice from your doctor or other professional healthcare provider.