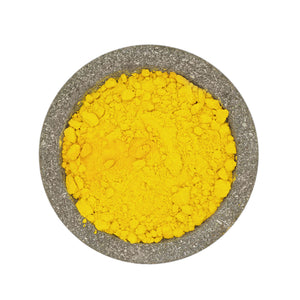 Curcuma longa
Country of Origin: India
Turmeric is a perennial flowering plant of the ginger family, called Curcuma longa. The plant is native to southeast Asia where its roots have been used since ancient times as a medicine, as a food coloring, as a spice and as a dye because of its bright yellow color. Today turmeric is cultivated in the Indian subcontinent and also in China, Thailand, Vietnam, Pakistan and Jamaica. The largest producer and consumer of turmeric is India where over 40 species of Curcuma grow.
Turmeric rhizomes are the roots of the plant. They can be consumed fresh or dried. Turmeric has a gingery look and taste with an earthy flavor combined with woody aromas. Dried turmeric rhizomes are compact as wood and should be grated in order to release its pungent and warm taste with notes of citrus fruits. Ground dried turmeric retains its flavor and aroma for up to a year if it is stored in an airtight jar and it is easier to use.
Ground turmeric is an essential ingredient to be found in most Indian masalas and curry powders. In Morocco turmeric is used for ras el hanout spice blend while in Cambodia it is found in many spice pastes. In Iranian and Persian cuisine, turmeric is used in stews called khoresh with vegetables and meat. Turmeric is also used as a food coloring in the West for mustards, butters, dressings, ice creams and yogurts to give a golden yellow color. Another popular use of ground turmeric is for the beverage called ''golden milk'' or ''turmeric latte'' which is usually made with coconut or almond milk spiced up with cinnamon, ginger, black pepper and honey or maple syrup. 
Ground turmeric combines well with cloves , sweet paprika, ginger, mustard powder, mustard seeds, malawi peppers, cumin, garlic and coriander seeds.