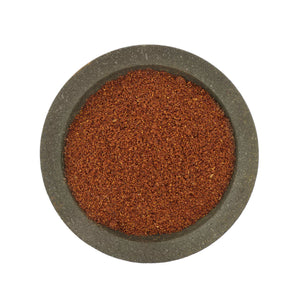 Rhus coriaria
Country of Origin: Turkey
Sumac or sumaq or sumach, comes from the dried fruits of a bushy shrub or small tree called Rhus coriaria. The shrub grows wild around the world in subtropical climates, especially in the Middle East. The plant can reach the height of 3m and it produces creamy white flowers which turn into drupes.
The berries of the plant are harvested during autumn when they are almost fully ripe and reddish. The berries are left to dry and when the drying process is over, they are crushed and ground to produce the spice Sumac, a red-purple or maroon powder that has little aroma but its taste makes it unique.
Sumac tastes fruity and lemony and sour and it is used in Arab and Lebanese cooking to add a tart taste in salads, bread and meat. Sumac is also a nice topping for various meze dishes such as hummus and other dips. Sumac can be rubbed on the meat or fish prior to cooking. It is a good ingredient for marinades and also salad dressings. Sumac enhances the taste of kebab, meatballs and cooked vegetables, when sprinkled on top. Sumac is also essential in the Middle Eastern za'atar spice mix which is a blend of sumac, sesame seeds and thyme. Sumac can be added in yogurt to make an excellent dip for breadsticks or pita.
Sumac combines perfectly with sweet paprika, cumin, brown sesame, greek oregano, greek thyme, summer savory, malawi peppers, coriander seeds, garlic granules and onion powder.