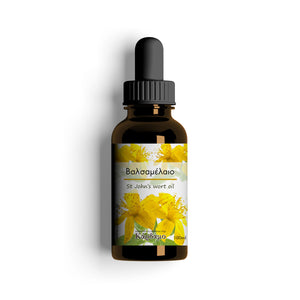 Hypericum perforatum
Country of origin: EU
Dropper bottle of 100ml
St John's Wort liposoluble extract
St John's Wort oil is produced by infusing flowers into excellent quality olive oi. It contains flavonoids, phloroglucinols, phenolic acids, tannins, volatile oils, coumarin, carotenoids, resins, saturated fatty acids and vitamins.
St John's Wort oil helps reduce the pain caused by hemorrhoids. It contains hypericin and flavonoids that help reduce the itching and burning sensation. It can be applied directly to the area affected by the hemorrhoids. It works best with a combination of calendula and witch hazel oil. 
St John's wort oil relieves pains caused by arthritis and rheumatism. It has analgesic, anti-inflammatory and antiseptic properties. It can be applied on sores and burns to accelerate the healing process but also to protect the wound from entering pathogens, thanks to its astringent and antibacterial properties. St John's Wort oil can also be applied to reduce inflammation resulting from insect bites.
St John's wort oil can be used to treat the symptoms of depression. It helps control emotions, mood swings and depression. It is consumed to reduce stress and anxiety especially by women suffering from premenstrual syndrome (PMS) or from women during menopause.
St John's wort oil can cause photosensitivity, so exposure to sunlight should be avoided.
Consumption of St John' s wort oil should always be avoided during pregnancy and breastfeeding. It can have serious interactions with certain medications such as antidepressants or oral contraceptives. You should always consult your doctor before using it.
The medical information on our website is not advice and should not be treated as such. You must not rely on the information on our website as an alternative to medical advice from your doctor or other professional healthcare provider.