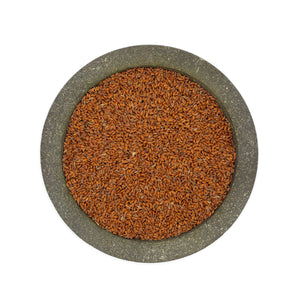 Sesamum indicum
Country of Origin: Turkey
Brown sesame seeds are the unhulled seeds of the flowering plant of the family Sesamum which is one of the first ever recorded plants grown in human history. After harvesting, the seeds are cleaned and, most often, hulled to remove the brown coat or husk and leave the seed completely white. When the seeds are left unhulled, they have a brown color.
Brown sesame seeds are not as widely used as white sesame seeds but they are even more beneficial since they maintain their nutritious outer hulk. Brown sesame seeds have a nutty, earthy taste, more bitter than the white seeds.
Brown unhulled sesame seeds are used in the Middle East for a thick sesame paste called brown tahini. They are also used in baking recipes where white sesame would be used, such as breads and breadsticks, cookies and other baked products.
Brown sesame seeds combine well with white sesame, ginger, cardamom, cloves, nutmeg and honey.