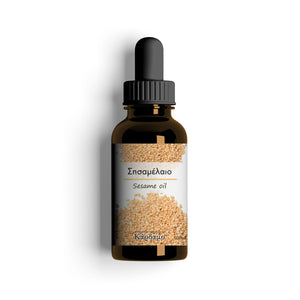 Sesamum indicum
Country of origin: EU
Dropper bottle of 100ml
Sesame oil is extracted from sesame seeds and has been used in cooking for its high nutritional value. Sesame oil is also valuable in skin care as it is highly nutritional and contains fatty acids, proteins, minerals like zinc, calcium, phosphorus and vitamins E, D, K, B complex. It has a rich texture and a heavy nutty aroma.
Sesame oil has strong antioxidant and anti-aging action. It fights oxidative stress and skin damage caused by exposure to environmental pollutants, preventing the formation of wrinkles and age spots. It also protects the skin against UV radiation and can be found as an ingredient in homemade sunscreens. Sesame oil prevents the signs of premature aging as it eliminates the free radicals which are responsible for cell damage and cell mutation.
Wheat germ oil moisturizes in deep and preserves the elasticity and smoothness of the skin. Its thick texture, make it an excellent massage oil for the whole body, to detoxify the skin, to offer deep hydration, to remove the dead cells and to leave the skin glowing and rejuvenated.
Sesame oil can be applied to combat dryness and to soothe skin irritations, such as rashes, eczema and psoriasis. It is a great remedy for cracked heels and dry elbows. Its antibacterial and anti-inflammatory properties make it an excellent oil for treating wounds and bacterial infections. Sesame oil repairs the damaged cells and promotes blood flow to the affected area and as a result, prevents the formation of scars. Its antibacterial action is also beneficial for acne-prone skins as it eliminates bacteria that can trigger a more severe infection.
Sesame oil can also be applied to nourish and moisturize the hair especially during summer when sun and sea usually damage the hair. Sesame oil protects from UV radiation, locks moisture and revitalizes dry and damaged hair. It can be applied as a conditioner to make hair soft and shiny but it can also be applied on the scalp to treat dandruff, dry dandruff and to soothe itching and irritation caused by dry scalp.
The medical information on our website is not advice and should not be treated as such. You must not rely on the information on our website as an alternative to medical advice from your doctor or other professional healthcare provider.