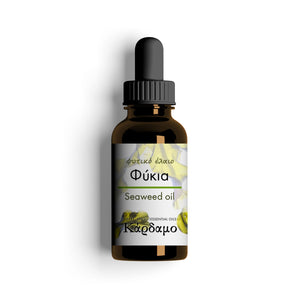 Fucus vesiculosus
Country of origin: EU
Dropper bottle of 30ml
Seaweed liposoluble extract
Seaweed oil is very rich in calcium, copper, iodine, iron, magnesium, phosphorus, potassium, sodium and zinc. It is used for its firming properties. It has the ability to penetrate deep into the epidermis. Seaweed oil is used mainly for the treatment of cellulite.
Fucus vesiculosus liposoluble extract contains proteins to help prevent premature aging of the skin by redesigning collagen and regenerating elastin. It reduces and softens the wrinkles while it increases the elasticity of the skin.
Seaweed oil combines perfectly with ivy oil for the body.
The medical information on our website is not advice and should not be treated as such. You must not rely on the information on our website as an alternative to medical advice from your doctor or other professional healthcare provider.