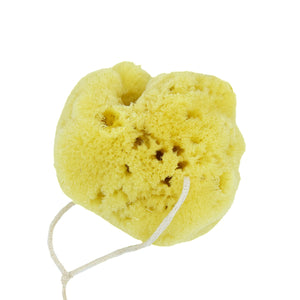 Natural Sea Sponge 12 cm.
This photo is indicative of the product. The shapes of all sea sponges differ as they are all living organisms and are not available in identical standard shapes. The color also differs from sponge to sponge (slight deviation). The size of the diameter of this category is about 12 cm.
Origin: Mediterranean Sea
Let go of synthetic sponges that are harmful to the environment and end up in landfills. The natural sea sponge is fully biodegradable, fully organic and hypoallergic and is ideal for gentle cleaning. When it gets wet, the sea sponge softens and shrinks. Sea sponges are extremely soft, an ideal product for baby skin.
To maintain your sponge for a long time, make sure to rinse it off with plenty of water after each use, to remove soap residue, and hang it from its cord to dry until the next use.