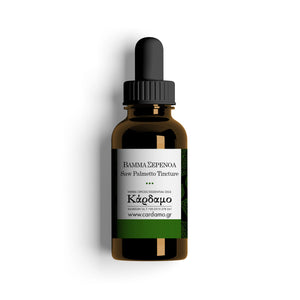 Serenoa repens
Country of Origin of Raw materials: USA
Dropper bottle of 30ml
Saw Palmetto or serenoa tincture is used by men in order to treat prostate gland enlargement which may occur as men get older. The condition is called benign prostatic hyperplasia and causes symptoms such as discomfort during urination, weak urine flow, frequent need of urination at night, feeling of incomplete emptying of the bladder. It may also cause urinary tract infections and kidney problems. Daily consumption of saw palmetto tincture may reduce the symptoms of enlarged prostate gland.
Saw palmetto tincture is consumed by older men to increase sexual desire and libido. It increases testosterone levels which results in increased sperm production, fertility and self-confidence.
High testosterone levels is also linked with hair growth. Saw palmetto tincture can be consumed by both men and women to reduce hair loss caused by high levels of androgens and dihydrotestosterone in the body, called androgenetic alopecia.
CAUTION! Saw Palmetto tincture should be avoided during pregnancy
Dosage: 15-20 drops three times a day, diluted in water. 
Technical datasheet

SERENOA SERRULATA FRUIT EXTRACT:



Ethanol content: 37
,0 - 42,0 % v/v
Density:
0,960 - 0,980 g/ml


FREE from GMO (Reg. (EC) 1829/2003 and 1830/2003)


FREE from BSE/TSE (

Transmissible Spongiform Encephalopathy)


GLUTEN FREE
ALLERGENS: Free from substances or products causing allergies or intolerances (Reg. (EU) 1169/2011 Annex II)
The medical information on our website is not advice and should not be treated as such. You must not rely on the information on our website as an alternative to medical advice from your doctor or other professional healthcare provider.