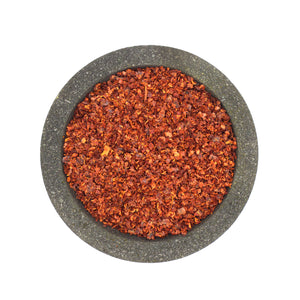 "
Capsicum annuum species
Country of Origin:Turkey
Pul Biber is the Turkish name of a specific variety of Capsicum annuum species, called Aleppo pepper. The pepper grows in Syria and Turkey and it is named after the city Aleppo in Syria which was once part of the silk road that connected the East with the West.
Aleppo peppers are sold in the form of semi-dried ground flakes known as Pul Biber in Turkey. They have a moderate heat with a mild pungency and an earthy taste with notes of fruit and hints of cumin.
Pul Biber can be used just like any other spice of the Capsicum species. Just like paprika, Pul Biber can be added in marinades, soups and stews, meat and vegetable dishes, to add color and heat. It is excellent in all tomato-based recipes and it is also good in meatballs or as Turkish call it köfte. Pul Biber can enhance the taste of oven-baked lamb or grilled chicken, rubbed on the skin of the meat.
Pul Biber combines best with greek oregano, greek thyme, garlic powder, onion powder, turmeric and sweet paprika.