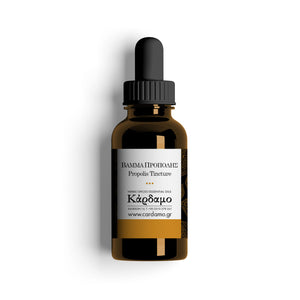 Country of Origin of Raw material: China
Dropper bottle of 30ml
Propolis is a product made by honey bees. It is also called bee glue and is a sticky, resinous mixture of saliva and beeswax with substances gathered from tree buds, sap flows, or other botanical sources.
Propolis has anti-viral, antibacterial and anti-fungal properties.
The most common use of propolis tincture is to treat mouth infections, such as mouth ulcers and cold sores caused by herpes simplex. It can also be consumed to treat genital herpes and to prevent future formation of cold sores. Its anti-inflammatory action treats infections of the mouth such as oral candidiasis (with the formation of white patches on the inner cheeks, tongue and throat), oral mucositis (caused by radiation therapy or chemotherapy) and periodontitis (bleeding of the gums caused by bacteria).
Propolis tincture has a healing effect on the gastrointestinal system and it can eliminate Helicobacter pylori which causes stomach ulcers and other intestinal infections.
Propolis tincture can also accelerate the recovery of common cold and flu and may also prevent upper respiratory tract infections.
Finally propolis tincture can be consumed in order to avoid seasonal allergies as it boosts the immune system and acts as a natural antihistamine.
CAUTION! Propolis tincture should be avoided during pregnancy
Dosage: 5-10 drops twice a day, diluted in water. 
Technical datasheet PROPOLIS EXTRACT:
Ethanol content: 77,0 - 82,0 % v/v
Density: 0,840 - 0,910 g/ml

CHLORAMPHENICOL: In compliance with Reg. (EU) 37/2010 and 470/2009 and Decision 2002/994/EC and amendments (Chloramphenicol absent)
GMO: Free from GMO (Reg. (EC) 1829/2003 and 1830/2003)
BSE/TSE FREE (Transmissible Spongiform Encephalopathy)
GLUTEN FREE
ALLERGENS: Free from substances or products causing allergies or intolerances (Reg. (EU) 1169/2011 Annex II)
The medical information on our website is not advice and should not be treated as such. You must not rely on the information on our website as an alternative to medical advice from your doctor or other professional healthcare provider.