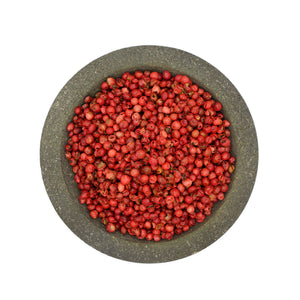 Country of Origin: Peru
Pink or red peppercorns are the dried berries of the Peruvian pepper tree, Schinus molle. Although they resemble peppercorns, they come from a different species. They are called ''peppercorns'' as they have the same round shape and peppery taste of black, white and green peppercorns that come from the genus Piper.
Pink peppercorns have a soft shell and usually they are sprinkled whole or crushed on top of foods. They have a light, moderate taste that resembles that of the black peppercorns but with a pinch of sweetness, and a milder heat.

Pink peppercorns are a perfect addition to enhance thick creamy sauces to accompany poultry or seafood. They can also be used to garnish egg dishes or grilled juicy pieces of meat. Pink peppercorns can be sprinkled crushed over salads or potato salads.