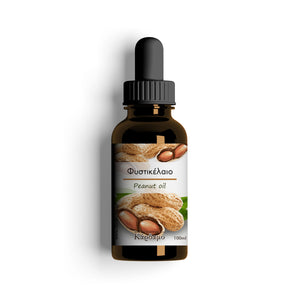 Arachis hypogaea
Country of origin: EU
Dropper bottle of 100ml
Peanut oil contains fatty acids such as oleic and linoleic and palmitic acid. It is also rich in vitamin E. It is used in soap making as it gives rich creamy foam.
Peanut oil is used for its antioxidant action as it can eliminate the free radicals that are responsible for cell damage and premature aging. It penetrates deep into the skin, moisturizes and prevents the formation of wrinkles and age spots. It can be applied to extra dry areas of the skin like elbows and heels.
Peanut oil can also be used to hydrate the dry scalp and eliminate flaking. It also repairs the damaged and dry hair and eliminates split ends by keeping the hair nourished, healthy and shiny.
The medical information on our website is not advice and should not be treated as such. You must not rely on the information on our website as an alternative to medical advice from your doctor or other professional healthcare provider.