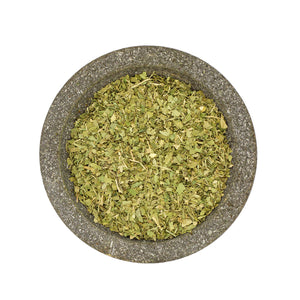 Petroselinum crispum
Country of Origin: Egypt
Parsley is a biennial or annual herb depending on the climate of the area where it is cultivated. Parsley is native to the central and eastern Mediterranean region but it is cultivated throughout the world in temperate, tropical and subtropical climate.
Parsley' s fresh leaves have a fresh lemony bite with notes of anise. Dried parsley has a less aromatic taste but it is a good option when fresh parsley is not available.
Dried parsley can be used with several ingredients. It is good in sauces and soups, especially with recipes that contain tomatoes such as lentil and bean soups, salads, tomato sauces to accompany pasta or meat or fish. Parsley can also be combined with lemon to enhance the taste of grilled or oven-baked fish. It is also good in potato salads or mashed potatoes. Dried parsley can be cooked in vegetable stocks, stews and sauces as over-heating releases its aroma.
Dried parsley combines best with greek oregano, greek basil, dried dill, greek rosemary and bay leaves.