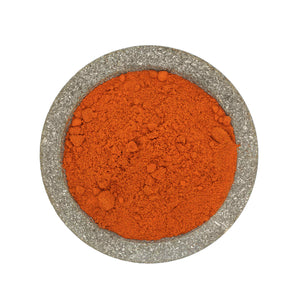 Capsicum annuum species
Country of Origin: Greece
Paprika was first brought to Spain in the 16th century by Columbus after his grand voyage to America. Paprika was cultivated in North America and Central Mexico for centuries but the Spanish were the first who dried and ground the red fruits to make the spice we know today. Hot paprika comes mostly from the more pungent varieties of capsicums like cayenne peppers and chili peppers.
This smoked hot paprika is Greek and produced in Kilkis. It is a high quality paprika, dried and smoked with oak wood, which gives its characteristic smoky aroma. It is hot with moderate pungency and very intense taste.
Smoked hot paprika can be added in soups, sauces, and marinades to give them color and heat. In the US smoked hot paprika is used for spicy barbecue pork and deviled eggs.
Smoked hot paprika is an excellent spice to be added raw on top of the dishes, at the end of the recipe, as overheating makes it a bit bitter. It can be used to season dishes with chicken, pork and beef as well as dishes with grilled and oven-baked vegetables and potatoes. Smoked hot paprika adds heat to rice recipes and also omelettes, soups and tomato sauces. It can also be added in sausages and meatballs prior to cooking to make them spicy hot. Smoked hot paprika can be added in yogurt dips to uplift their taste if you enjoy spicy food. It can also be added on top of white cheese like feta cheese.
Smoked hot paprika combines best with greek oregano, greek thyme, garlic powder, Onion powder, ground turmeric, saffron, ground cumin and ground cardamom.