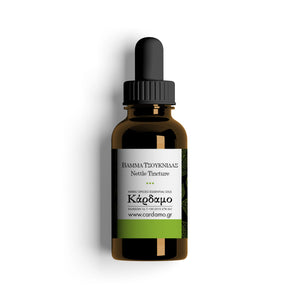 Urtica dioica
Country of Origin of raw materials: East Europe, Italy
Dropper bottle of 30ml
Nettle tincture is consumed to relief pain from rheumatism, arthritis, sciatica and back pain. It creates hyperemia and can even be consumed to prevent rheumatic diseases. Its anti-inflammatory action can soothe inflammations and swelling associated with arthritis.
Nettle tincture can be consumed to reduce the symptoms caused by enlarged prostate in men. It has strong diuretic action and can treat urination problems. Nettle tincture also helps eliminate kidney and bladder stones through urination. It is especially beneficial in cases of cystitis and nephritis.
Nettle tincture can lower blood pressure and reduce pressure in the arteries. Nettle acts as a vasodilator and may relieve the cardiovascular system, relax the blood vessels and arteries and thus help prevent arteriosclerosis. 
CAUTION! Nettle tincture should be avoided during pregnancy
Dosage: 15-20 drops three times daily, diluted in water. 
Technical datasheet

URTICA DIOICA LEAF EXTRACT:



Ethanol content: 18 - 22
% v/v
Density:
1,000 - 1,020 g/ml


FREE from GMO (Reg. (EC) 1829/2003 and 1830/2003)


FREE from BSE/TSE (

Transmissible Spongiform Encephalopathy)


GLUTEN FREE
ALLERGENS: Free from substances or products causing allergies or intolerances (Reg. (EU) 1169/2011 Annex II)
The medical information on our website is not advice and should not be treated as such. You must not rely on the information on our website as an alternative to medical advice from your doctor or other professional healthcare provider.