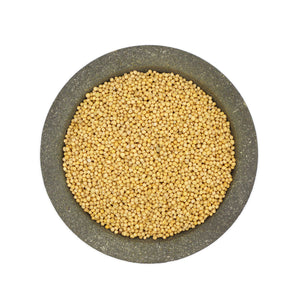 Sinapis alba
Country of Origin: Poland
White mustard seeds come from the annual plant called Sinapis alba or sometimes found as Brassica alba of the family Brassicaceae, native to Europe and North America.
The white mustard seeds have a tanned beige to yellow color. When whole, they have no significant aroma but when they are ground or chewed they release an earthy flavor, slightly sweet but also pungent. The seeds are used in the production of mustard powder.
Mustard powder is a blend of white and brown mustard seeds of the plants B. juncea (for brown seeds), Brassica alba and Sinapsis alba (for white seeds) mixed with wheat or rice flour and spices such as turmeric for extra color. Mustard seeds can be black, brown, white or yellow. White seeds have a milder  pungency than the brown seeds. Species of the white mustard seeds are now cultivated in Canada and the US. The stems of the mustard plant are harvested and dried just before the seedpods are ripe and ready to burst open.
Apart from mustard powder, white seeds can also be pickled in brine to be used in marinades, in salad dressings, in burgers or spread on sandwiches with cold pieces of meat. They go well with cold cuts of turkey, ham and pastrami.
White mustard seeds combine perfectly with coriander seeds, nigella sativa, turmeric, cumin, fennel seeds and fenugreek.