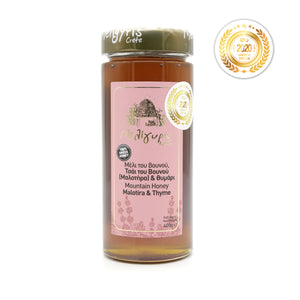 Greek mountain honey "Meligiris" with Malotira and Thyme that grows on the Cretan mountains.
Packaging: Glass jar of 400gr.
"Malotira", the Cretan Mountain Tea is a protected herb found only in the Cretan Mountains. Its name, "malotira", comes from the combination of the Italian words male and tirare. The herb flourishes at an altitude of 800-2000 meters.
Winner of "Gold America Awards 2020"
"Meligiris" is a Beekeeping Unit, which has been working on honey production since 1920 in Crete. You can find out more about them at www.meligyris.com