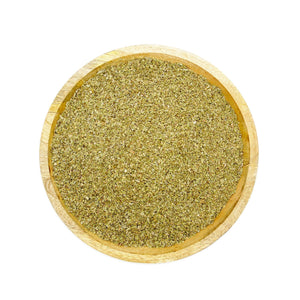 Origanum majorana
Country of origin: Greece, certified organic
Marjoram has great analgesic properties and is traditionally used to treat fever and pain assosiated with common cold, inflammation along with muscle aches, headaches and toothaches.

It has spasmolytic properties and can relieve respiratory spasms in cases of bronchitis, tonsillitis, asthma and nervous cough. It also helps to remove mucus and phlegm from the throat, and acts as a decongestant of the nasal passage, larynx, pharynx, and lungs.

Marjoram has antiseptic properties and is traditionally applied on wounds to prevent sepsis. It speeds up wound healing both externally and internally and protects against inflammation.

Marjoram is considered effective in the treatment of infections caused by viruses such as common cold, flu, mumps and measles.

The use of marjoram is considered to be particularly beneficial for brain function. It is consumed traditionally to keep the mind healthy and to prevent brain damage such as Alzheimer's disease and dementia. Also, it has calming and relaxing properties, it reduces stress and anxiety.

Marjoram acts as a diuretic, increases sweating and urination and helps in the elimination of toxins, uric acid, sodium and salts from the body. In this way it helps to detoxify the kidneys, to reduce fat, to lose weight and reduce fever.

Finally, marjoram has vasodilating properties. It enlarges blood vessels, facilitates blood flow and helps lower blood pressure.

Marjoram should be avoided during pregnancy and lactation, unless otherwise advised by your doctor.
The medical information on our website is not advice and should not be treated as such. You must not rely on the information on our website as an alternative to medical advice from your doctor or other professional healthcare provider.