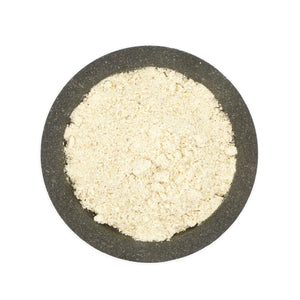 Prunus mahaleb
Country of Origin: Turkey
Mahleb or mahlab or mahaleb comes from a species of sour cherry tree called Prunus mahaleb (St Lucie cherry), native to the Mediterranean region and central Asia. The tree produces small black cherries, each carries a kernel seed which is extracted and then left to dry. The dried kernels have a beige tanned color, their size is about 5mm, and they have a chewy texture that resembles marzipan. Its taste is nutty with bittersweet notes similar to almonds and cherries.
Mahleb is very popular in Greece since it is one of the essential ingredients used to make ''tsoureki''. Tsoureki is breaded dough, like challah bread. The dough is seasoned with cardamom, mahleb and Chios mastic which release their aromas while they are being baked and fill the atmosphere with sweet notes of piquant perfumes. In Greece tsoureki is traditionally baked for Eastern Sunday and a variation of it, called ''vasilopita'' is baked for New Year' s Eve. Mahlab is also used in other Eastern pastry recipes. The Armenians use it for chorag, the Turkish use it for ''Çatal'' and the Arabs for ma'amool pastries filled with dates and nuts. Mahlab can add a unique taste to fruit breads and fruit pastries that contain nuts like pistachios or walnuts.
Mahleb is best bought as whole kernels and grated when needed. When bought ground it should be kept in airtight jars in order to preserve its flavor.
Mahleb combines perfectly with ground cardamom, Chios Mastic tears, ground cloves, ground cinnamon, ground nutmeg and poppy seeds.