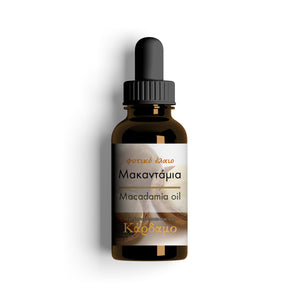 Country of origin: EU
Dropper bottle of 30ml
Macadamia oil is extracted from the nuts of macadamia trees. It is rich in oleic, linoleic and palmitoleic acids which make it a valuable oil for hair and skin nourishment.
The high concentration of antioxidants found in macadamia oil, help reduce oxidative stress caused by everyday exposure to environmental pollutants which causes premature aging of the skin. Macadamia oil eliminates the free radicals that cause cellular damage and mutations and contribute to the aging of the skin and the formation of wrinkles and age spots. 
The fatty acids contained in macadamia oil strengthens and nourishes the hair. Macadamia oil penetrates the hair follicles, restores the moisture, prevents hair dryness and split ends and makes hair look healthy, silky and shiny.
The medical information on our website is not advice and should not be treated as such. You must not rely on the information on our website as an alternative to medical advice from your doctor or other professional healthcare provider.