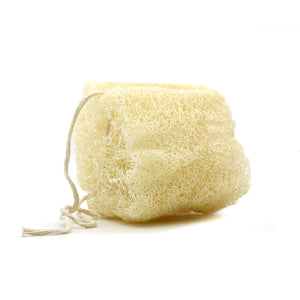 Natural Ecological Luffa sponge sliced at around 12-13 cm.
This photo is indicative of the product. The shapes of all the pieces are different as luffa is a natural fruit and is not produced in identical standard products. The size of these pieces is about 12 to 13 cm.
Country of Origin: Egypt
Let go of synthetic sponges that buren the environment and end up in landfills. The natura Luffa sponge is the ideal solution for the body and the environment. Luffa is eco-friendly and grows on land. It comes from the plant Luffa aegyptiaca which grows like a vine, whose fruits, when ripe, take a cucumber-like shape and form many fibers.
If you like a gentle exfoliation for intense cleansing then luffa is the ideal ecological solution for you. Luffa sponge can be cleaned in water and vinegar to prolong its life. When the time comes to replace it you can throw it away without any remorse as it is completely biodegradable.
This particular luffa, thanks to its convenient small size, can even be used for dishwashing.