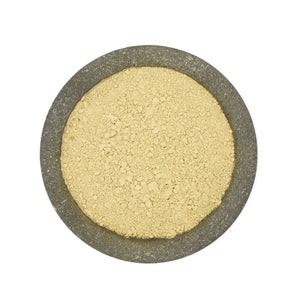 Glycyrrhiza glabra
Country of Origin: China
Licorice or liquorice powder comes from the species of Glycyrrhiza, native to southeastern Europe, Middle East and parts of Asia where it has been cultivated for over 2000 years. The most important species is Glycyrrhiza glabra.
The aroma of licorice powder is sweet and earthy with a taste that is both sweet and salty, with notes of anise and fennel.
Licorice has been used in ancient Chinese medicine for its expectorant properties. Licorice powder is found as a flavoring agent in various Asian spice blends, in marinades and stocks. It can be found as an ingredient in the Chinese five-spice mix to be used in savory dishes. It goes well with duck and pork dishes. Liquorice powder can also be used in baking and in sweet recipes such as cakes, cookies, ice creams and custards.
Licorice powder combines well with spearmint, ginger, cloves, cassia cinnamon, fennel seeds, anise seeds and star anise.