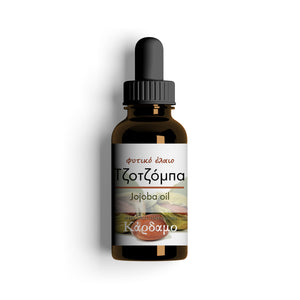 Simmondsia chinensis
Country of origin: EU
Dropper bottle of 30ml
Jojoba oil is produced from the liquid inside the seeds of the jojoba plant (Simmondsia chinensis). It is rich in mono-unsaturated fatty acids and vitamin E and has an excellent resistance against high temperatures.
Jojoba oil has the ability to reduce oxidative stress caused by everyday exposure to environmental pollution, thanks to the vitamin E it contains. It eliminates the free radicals that cause cell destruction and are responsible for premature aging of the skin, thanks to its antioxidant action. Thus, it slows down the formation of wrinkles and free lines.
Jojoba oil is suitable for oily skin as it regulates sebum production and does not clog the pores. Plus, its antibacterial action helps to control acne related with bacterial infections.
The anti-inflammatory action of jojoba oil can help with the treatment of acne and other skin irritations such as eczema, psoriasis and dryness of the skin. It can also soothe sunburns. When applied on wounds it can accelerate the healing process as it creates a barrier, preventing pathogens from entering the organism. It also prevents the formation of scars.
Jojoba oil can be used to nourish and hydrate the damaged hair and also to moisturize the dry scalp and eliminate dandruff and dryness. It strengthens the hair follicles, thickens the hair and prevents split ends.
The medical information on our website is not advice and should not be treated as such. You must not rely on the information on our website as an alternative to medical advice from your doctor or other professional healthcare provider.