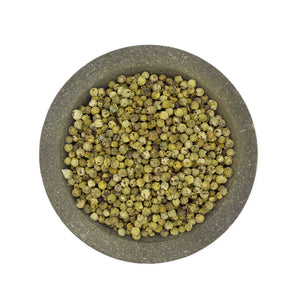 Piper nigrum
Country of Origin: India
Green peppercorns come from the same plant as black peppercorns. They are the unripe berries of the flowering vine Piper nigrum in the family Piperaceae. The vine produces fruits which become red or pink in color when the are fully ripe at about 5mm in diameter. 
Pepper vines are native to South Asia and Southeast Asia. Pepper was introduced to Europe when it was brought from India' s Malabar coast to Italy and Rome through the Red Sea and the Nile River during the time of the Roman Empire. Pepper was extremely valuable and expensive that it was even used as a currency for trading. It can often been found in references as ''black gold''.

Nowadays the main producers of pepper are India, Indonesia, Brazil, Malaysia and Vietnam which is the world' s largest producer and exporter, producing almost 40% of the world' s pepper.

Green peppercorns are harvested when the berries of the vine are still green and immature. After harvest, the berries follow a process of freeze-drying and dehydration in order to preserve their green color.

Green pepper tastes fresh and its pungency is milder than that of the black pepper. It is a great seasoning to add a mild spicy flavor in cream sauces to accompany meat, like fillet or steak with creamy green peppercorn sauce. It is also good with chicken and lamb as well.