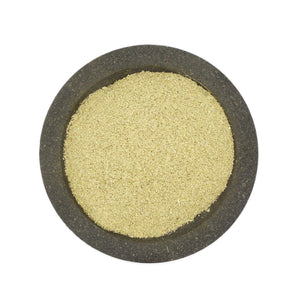 Elettaria cardamomum
Country of Origin: Guatemala
True or green cardamom pods are the fruit of a perennial bush native in southern India of the species Elettaria cardamomum. Inside these oval green pods are 15-20 dark brown seeds (White cardamom pods are bleached green pods and have less flavor and aroma). Green cardamom was introduced to Europe by the Vikings and is still very popular today in the Nordic countries. Nowadays cardamom is cultivated in Malaysia, Tanzania, Vietnam and in Guatemala which has become the main producer and exporter.
Ground green cardamom is used as a seasoning in both sweet and savory dishes. In India, it is an essential ingredient for curry powders, masalas, pilafs (flavored rice dishes) and for a traditional indian rice pudding called kheer. It is also an essential ingredient for creamy chicken korma dishes in India. Cardamom is also used as in ingredient in Syrian and Lebanese spice blends, in Ethiopian berbere, in Thai currys and in Nepali masalas. Green cardamom is also an essential flavoring for Arabic coffee, boiled as whole pods or ground with coffee beans. In India it is used to add a unique, penetrating aroma to tea (masalas). Ground cardamom is also added in pastries, ice creams, cakes, baked apples and breads. In Scandinavia, cardamom is used in baking, for sweet buns and sweet breads.
In Greece, green cardamom, is used for traditional easter "tsoureki" and new year's eve "vasilopita" in combination with ground mahleb and Chios' Mastic Tears.
Ground green cardamom can be perfectly combined with ground mahleb, ground cassia cinnamon, ground cumin, ground cloves, ground ginger, sweet paprika and ground black pepper