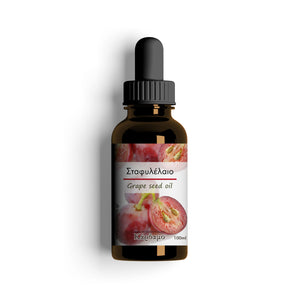 Country of origin: EU
Dropper bottle of 100ml
Grapeseed oil is pressed from the left-over seeds of grapes after the wine-making process. It is valuable in skin care as it is rich in fatty acids, such as linoleic, oleic, palmitic, stearic and alpha-linoleic acids and also contains phenols, steroids and vitamin E.
Grapeseed oil has strong antioxidant action. It reduces oxidative stress and protects the skin from environmental pollutants and UV radiation that accelerate the aging of the skin. Grapeseed oil also eliminates the free radicals which are responsible for premature aging as they cause cell damage that results in the formation of wrinkles and age spots. It also contains proanthocyanidin, a substance that manages uneven skin tone and prevents hyperpigmentation.
The fatty acids contained in grapeseed oil, nourish the skin, offer elasticity and preserve the moisture levels of the epidermis. The anti-inflammatory action of linoleic acid make grapeseed oil beneficial against dryness, skin rashes and irritations such as eczema and psoriasis. It can be applied on the affected area to reduce inflammation and to relief from the burning and itching sensation.
Grapeseed oil can be easily absorbed thanks to its light texture. It is ideal for oily skin as it balances oil production while keeping it moisturized. It can be applied to clean the clogged pores, to reduce the excess oil and to eliminate bacteria that are responsible for acne outbreaks.
The medical information on our website is not advice and should not be treated as such. You must not rely on the information on our website as an alternative to medical advice from your doctor or other professional healthcare provider.