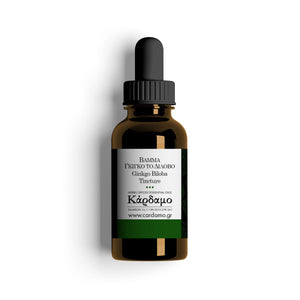 Gingko Biloba
Country of Origin of Raw Materials: mainly Italy, Chile & China
Dropper bottle of 30ml
Ginkgo biloba tincture is a very popular herb for its significant effect on Alzheimer's disease and other neurodegenerative diseases. It is rich in antioxidant ingredients that enhance brain function while reducing the effects of oxidative stress. The antioxidant action of gingko biloba tincture effectively neutralizes the free radicals that are responsible for cellular destruction and cellular mutation that can lead to severe chronic diseases.
Gingko biloba tincture can also be beneficial for cold hands and feet as it regulates the blood circulation even in cases of raynaud' s disease.
Gingko biloba tincture may help patients recovering from a stroke by improving cognitive and neurological functions.
Gingko biloba tincture increases libido in men as it increases blood circulation, accelerates the oxygenation of the cells of the body and thus fights erectile dysfunction. 
CAUTION! Ginkgo biloba tincture should be avoided during pregnancy
Dosage: 20-40 drops twice a day, diluted in water. 
Technical datasheet GINKGO BILOBA LEAF EXTRACT:
Ethanol content: 62,0 - 67,0 % v/v
Density: 0,890 - 0,920 g/ml

FREE from GMO (Reg. (EC) 1829/2003 and 1830/2003)
FREE from BSE/TSE (Transmissible Spongiform Encephalopathy)
GLUTEN FREE
ALLERGENS: Free from substances or products causing allergies or intolerances (Reg. (EU) 1169/2011 Annex II)
The medical information on our website is not advice and should not be treated as such. You must not rely on the information on our website as an alternative to medical advice from your doctor or other professional healthcare provider.