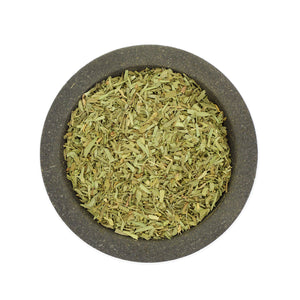 Artemisia dracunculus var. sativa
Origin: Greece
Tarragon or estragon comes from the leaves from a perrenial herb called Artemisia dracunculus. The variety sativa is cultivated for culinary purposes and is known worldwide as French tarragon, not to be confused with Russian tarragon or Mexican tarragon. Tarragon was native to Siberia and western Asia and later it reached Europe.
The French started using tarragon in cooking during the 16th century and it is since then a popular ingredient in French cooking. Dried tarragon or estragon is not as strong as the fresh leaves, but it has a sweet fragrance with notes of citrus fruits and anise or fennel. 
Dried tarragon enhances the taste of fish and poultry, especially when they are to be slow-cooked. It is also good with eggs and cream sauces to accompany meat or fish. Tarragon can be used in marinades and also in vegetable stews or oven-baked vegetables such as zucchini, tomatoes, artichokes and mushrooms. Tarragon is essential for the creamy Béarnaise sauce which usually accompanies steak but is also good with eggs and vegetables.
Dried tarragon combines best with lemon, dried parsley, basil, bay leaves, greek thyme and dried dill.