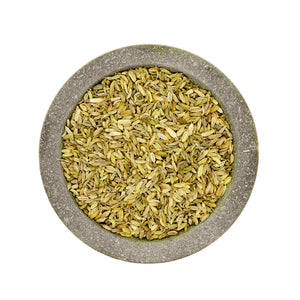 Foeniculum vulgare
Country of Origin: Greece
Fennel seeds or fruits come from the flowering plant Foeniculum vulgare of the carrot family. Fennel is native to the Mediterranean area but is now cultivated in many parts of the world as it can grow in most conditions. 
Fennel seeds have a similar taste and appearance with anise seeds. The whole plant, in fact, has a licorise aroma that reminds of anise. The taste of the seeds is fresh and pungent, leaving bittersweet notes in the mouth.
Fennel seeds can be boiled and consumed as a herbal tea but they also have an important role in the kitchen as a spice.
Fennel seeds can be found as an ingredient in various spice mixes around the world. They are essential to the Chinese five-spice powder used to season meat and chicken. In India, Nepal and Bangladesh fennel seeds are used in the spice blend called ''panch phoron'' to be added in legume recipes and vegetable stews. In India fennel seeds are even chewed after meals as a breath-freshener or to facilitate digestion thanks to their strong aromatic properties. Fennel seeds are excellent to enhance the taste and aroma of bread especially when it is accompanied with cheese and cucumber salad. Fennel seeds are good in dishes with capers and olive oils. They can also be added in fish recipes, especially oily ones such as salmon. Fennel seeds can also be used in pork recipes, such as roast pork and pork sausages. 
Fennel seeds combine best with cumin, dried parsley, fenugreek, greek thyme and mint