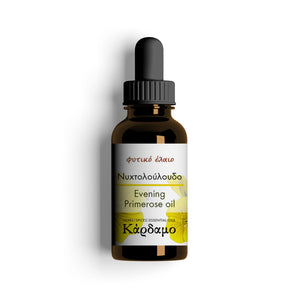 Oenothera biennis
Country of origin: EU
Dropper bottle of 30ml
Evening primrose took its name because its flowers open at night.
Evening primrose contains ω3, ω6 fatty acids and mainly γ linoleic acid (GLA). GLA is transformed by the human body into prostaglandin E1 that contributes to the regulation of the cardiovascular, nervous and reproductive system.
Evening primrose is helpful to women during menopause as it improves their psychological state, reduces sweating, irritability and mood swings. It is excellent for a relaxing massage, it has a light texture with sweet smell.
Evening primrose reduces wrinkles, hydrates and gives elasticity and softness to the dry skin.
The fatty acids contained in evening primrose help treat atopic eczema and various dermatoses. It can be applied on skin irritations to reduce itching.
The medical information on our website is not advice and should not be treated as such. You must not rely on the information on our website as an alternative to medical advice from your doctor or other professional healthcare provider.