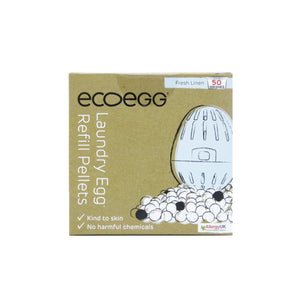 ECOEGG Laundry Egg Refill Pellets
Refill Pellets for your ECOEGG Laundry Egg
They last for 50 Washes
Colour & Aroma: Light Blue - Fresh Linen
Add the full refill pack into your Ecoegg Laundry Egg!
The package contains both white and black mineral pellets.
You can fill your "egg" with any of the 3 available fragrances. You can change the refill pellets when you want to try something different, with any scent you choose, regardless of the colour of your Ecoegg Laundry Egg that you have already purchased.
These mineral pellets are scented Fresh Linen
Refill Laundry Egg Pellets come in 2 more versions: 
ECOEGG Laundry Egg should not be used in washing machine above 60 degrees Celsius.
Watch the instructions video here, to learn how to add the mineral pellets in your "egg" for the first time