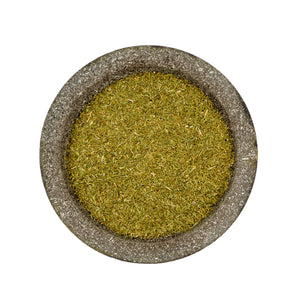 Anethum graveolens
Country of Origin: Hungary
Dill is an annual herb that grows up to 60 centimeters in eastern Europe, southern Russia and also Asia. It is cultivated for its leaves and seeds that can both be dried and used as spices. Dill leaves are widely consumed fresh as they have an aromatic, lemony aroma and a taste that resembles parsley and anise. Dill leaves are used fresh as a herb in European cuisines but also in Iran, India and Russia. In Greece fresh dill is used to flavor ''tzatziki'' which is a yogurt dip with garlic, cucumber and dill and it is also used in ''ntolmadakia'' which are grape leaves stuffed with rice and herbs.
Dried dill leaves come from the fresh leaves of the dill, often called ''dill weed'', dried and crushed to be used as a spice. Dried dill leaves have less sharpness than the fress dill, but still hold the aroma and flavor of the plant. The spice can be used in the same way as fresh dill. It is an excellent seasoning for salad dressings and yogurt dips.  It pairs nicely with cabbage, cucumber, carrots, cauliflower and beets. Dried dill leaves combine well with mustard and lemon to accompany seafood and fish. They are also excellent, sprinkled on top of potato salads and spinach dishes.
Dried dill leaves combine best with greek oregano, greek basil, dried parsley, garlic powder, mustard powder and coriander seeds.