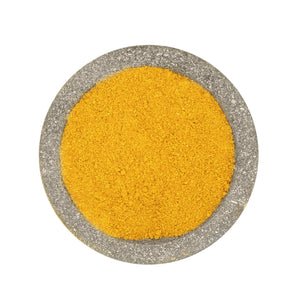 Curry powder, Hot
Country of Origin: India
Curry powder is combination of ground spices that contains mustard seeds, ginger, turmeric, cumin, fennel seeds, cinnamon, chili peppers and other spices depending on the recipe. There is not a standard recipe for curry powder and its pungency can vary from mild to hot depending on the amount of chili and pepper used for the blend. 
Curry powder was created by the British who wanted to capture and bring home the flavor of India that was part of the British Empire. The name ''curry'' does not exist in Indian cuisine as it is a British invention. In India, the word ''masala'' is used to describe a variety of spice blends. There are plenty of masala recipes used in Indian cuisine, such as garam masala, tandoori masala, chat masala, Bombay masala and so on. 
Curry powder is a western invention of the 18th century, created as an attempt to mimic the flavors and aromas of India, where spices were cultivated, used and traded as early as the 8th century BC. Today, curry powder is used in numerous recipes as a seasoning for meat, poultry, fish and vegetables. It can be used to flavor thick sauces, soups and stews and slow-braised pieces of meat. Curry powder enhances the taste of eggs and oven-baked or grilled potatoes. It is also excellent for potato salads and rice pilafs, if you wish to make them spicy.
Hot curry powder can be combined with many spices that are already inside the powder or used in other curry powder recipes. These ingredients are cardamom, cumin, turmeric, caraway seeds, ginger, mustard seeds, cassia cinnamon, nutmeg, garlic granules, ground coriander, malawi peppers, ground cloves, black pepper, sesame seeds and poppy seeds.