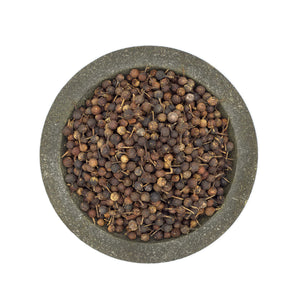 Piper cubeba
Country of Origin: Indonesia
Cubeb peppercorns, also known as Java pepper or tailed pepper, are the fruits of a pepper vine called Piper cubeba. This tropical vine has been cultivated in Java, Sumatra and other Indonesian islands for its fruit. The vine is of the genus Piper, same as black peppercorns that come from the plant Piper nigrum. 
Cubeb berries are harvested from the vines when they are still green and immature. They are then left to dry until they shrink and obtain a wrinkled, dark brown surface. Cubeb peppercorns resemble black peppercorns but they are slightly larger and have a a short tail attached to each berry.
Cubeb peppercorns are used in Indonesian cuisine in meat and vegetable dishes. They have a strong peppery aroma with notes of eucalyptus and pine. Their taste is bitter and pungent but when over-heated, they bring out flavors that resemble allspice.
Cubeb peppercorns combine well with turmeric, allspice, bay leaves, greek thyme and greek oregano.