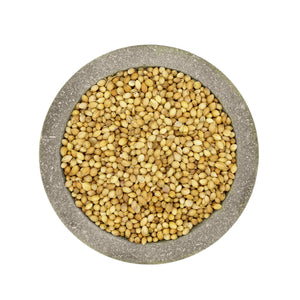 Coriandrum sativum
Country of Origin: India
Coriander seeds comes from the annual plant Coriandrum sativum cultivated not only for its seeds, but for the stems and leaves which are called cilantro and are used fresh in cooking. The plant grows wild in the southern Mediterranean area, in Western Asia, in India and in Central America.
Coriander seeds have a sweet floral aroma with hints of citrus fruits like lemon and orange. When they are roasted they bring out nutty and woody aromas. The Indian variety of coriander has sweet oval seeds while Moroccan coriander seeds are spherical and less sweet.
Coriander seeds are essential to many masalas and curry powders. Coriander can be found in spice blends all over the world, such as khmeli-suneli, garam masala, advieh, ras el hanout and many more. Coriander is used a seasoning in pickled vegetables like cabbage and cucumber. It is also great with oven-baked or grilled lemon potatoes. Seeds can be added to flavor vegetable stocks and broths and also soups and stews.Coriander goes well with sweet and savory recipes that use citrus fruits. It is excellent when combined with lemon or orange zest for cakes, tarts, cookies, pies. Coriander seeds can enhance the taste of oven-baked lemon chicken, or orange glazed pieces of meat and fish. 
Coriander seeds combine best with lemon, orange, garlic granules, cumin, malawi peppers, fennel seeds, cinnamon sticks and greek oregano.