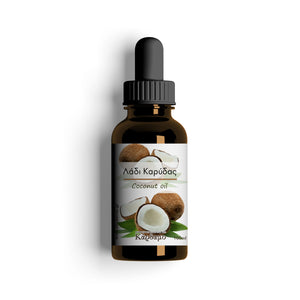 Cocos Nucifera
Country of origin: EU
Dropper bottle of 100ml
Coconut oil makes an excellent base oil. It comes from the cores of mature coconuts.
It is a vegetable oil rich in fatty acids, fiber and vitamin E. It is rich in lauric acid that has anti-viral, anti-bacterial and antifungal properties.
Coconut oil is solid at a temperature of less than 26 ° C while at higher temperatures it is liquid. Pure coconut oil, when solid, must be white. When it becomes liquid it is colourless. Coconut oil has become popular for its anti-aging and antioxidant action thanks to the vitamin E it contains.
Coconut is valuable for skin care. It is absorbed quickly, hydrating the skin of the face and body. It stimulates the damaged and mature skin, softens and prevents wrinkles and soothes the dry skin. It also helps in the treatment of eczema and other skin irritations.
Coconut oil is also beneficial for hair. It nourishes and moisturizes the damaged hair, balances dry scalp and prevents dandruff.
The medical information on our website is not advice and should not be treated as such. You must not rely on the information on our website as an alternative to medical advice from your doctor or other professional healthcare provider.