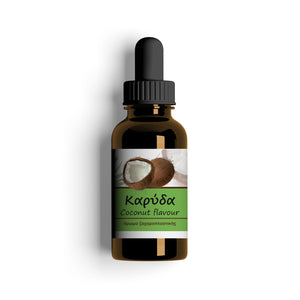 Coconut Flavor in liquid form - Water soluble - for use in Confectionery
Origin: Germany
Packaging: 10ml glass bottle with dropper
Coconut flavor has a characteristic exotic scent that brings to mind tropical images, holidays, fruits and summer flavors. Coconut goes well with tropical fruits and nuts. It is an ideal aroma for light desserts with mild flavors.
where can i add coconut flavor?
Coconut goes well with lemon and lime and generally with tropical fruits. It also goes well with bitter chocolate. Here are some ideas for recipes that you can enhance with coconut flavor:
in tarts stuffed with lemon filling or key lime pie
in fruit desserts, especially with mango, papaya and pineapple
in homemade strawberry or banana sorbet
in smoothies based on banana and peach
in energy bowls with yogurt, fruit, almond and cereals
in biscuits made of nuts
in carrot cake
in pastry creams, icings and white cakes
in handmade macaroons
in cupcakes with rum and coconut
in handmade cereal bars with dark chocolate
in pudding
in handmade crunchy granola with honey or maple syrup
in recipes with macadamia nuts, almond and walnut
in cocktails like Pina Colada (1 drop is enough!)
Type: Water soluble - Dosage: 1 to 1000
That is, for 1000ml of mixture (eg cake dough) we will use 1ml of coconut flavor. Pay attention to the dosage, do not overdo it, as our flavors are very concentrated and have a very strong effect. Do a test with a few drops and if necessary, increase the dosage until you reach the desired taste.