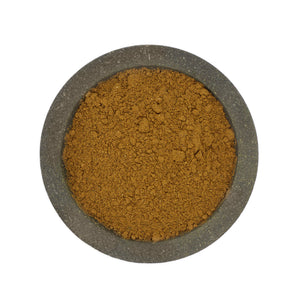 Syzyium aromaticum
Country of Origin: Madagascar
Cloves are the unopened flower buds of a small evergreen tree in the family Myrtaceae. The tree is native to the Moluccas, part of Indonesia, from where it reached Europe through Alexandria in Roman times. Today the main exporters and cultivators of the clove tree are Madagascar, Zanzibar and Tanzania. 
Clove has been used in tradition medicine as a toothache analgesic and was thought to be effective as it contains eugenol which is responsible for clove' s characteristic taste. It is also used in a certain type of Indonesian cigarette called kretek which is a blend of tobacco and cloves.
Cloves are mainly used as a seasoning in the Middle East, Asian and African countries to flavor meat recipes and rice dishes. Ground cloves are used as an ingredient in various spice blends such as curry powders, garam masala, berbere, and five-spice powder which is a blend of ground cloves, fennel seeds, star anise, cassia cinnamon and Sichuan pepper.
In Europe, cloves are used both in sweet and savory recipes. They are used in pastry making to make baked goods, glazed breads, pies and tarts. Whole cloves can be pressed on oranges or lemons to make syrups for desserts in Turkish and Greek cuisine. Cloves go well with oven-baked caramelized apples and quinces. They can also be pressed on onions to make broths and stews. Whole cloves are also used in the US for brown sugar glazed ham and are pressed on the meat for seasoning and also ornamental purposes. Ground cloves are good with pork and duck marinades, as well.
Ground cloves combine perfectly with ground nutmeg, ground cardamom, ground cassia cinnamon, ground ginger, bay leaves and anise seeds.