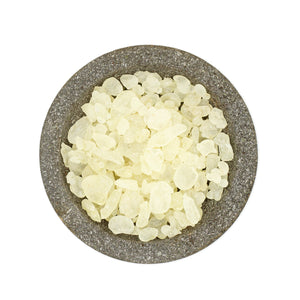 Pistacia lentiscus var. Chios
Country of Origin: Greece, Chios island
Large mastic tears from Chios island
Mastic or Mastiha is a natural resin that comes from the mastic tree Pistacia lentiscus, traditionally grown in Greece' s Chios island, only in the southern area of the island. This particular area of the island consists of 24 villages, called Mastihohoria or Mastiha villages where mastic production has been the residents' main source of income for hundreds of years. Chios mastic production is protected by a European Union protected designation of origin.
The mastic trees start producing mastic tears 5 years after being planted and they continue to develop for 40-50 years. In order to produce mastic tears, the trunks of the trees are cut diagonally with a sharp knife to release the resinous substance. The sticky tears begin to slowly emerge from the wounds of the trunk and in the following 15-20 days, they harden and fall to the ground having formed their various crystallized shapes and their semitransparent light color. 
Mastic tears are said to be the world' s first chewing gum and they were chewed to clean the teeth and freshen the breath. The tears were considered to relief from dyspepsia, heartburn and stomach ulcer since ancient times. Today the therapeutic and biomedical properties of mastic resin are being medically researched in order develop drug treatments. 
Mastic tears are used as a spice in the eastern Mediterranean, in Greece, Turkey, Syria, Lebanon and Egypt. Mastic is used as a flavoring in ice creams, pastries, beverages and breads. Turkish coffee is usually brewed with mastic syrup, and ''dondurma'' is a turkish chewy ice cream flavored with mastic. In Greece, mastic tears give their unique aroma to the festive ''tsoureki'' and ''vasilopita'' traditionally baked for Eastern Sunday and New Year's Eve. Tsoureki is breaded dough, like challah bread. The dough is seasoned with cardamom, mahleb and ground Chios mastic tears. The Greeks also use mastic tears to make a chewy spoon dessert called ''submarine''. In Chios, you can find food and beverage products made and infused by mastic tears, like spoon sweets, jams, chewing gums, biscuits, liqueurs, ouzo and tsipouro. You can also find natural cosmetic products with mastic tears in Chios island, like toothpastes, deodorants, lotions and soaps.
Mastic tears combine well with mahleb, cardamom, cassia cinnamom, cloves and allspice