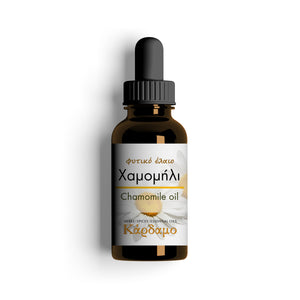 Matricaria chamomilla
Country of origin: EU
Dropper bottle of 30ml
Chamomile liposoluble extract
Chamomile liposoluble extract is produced by extracting chamomile flowers in extra virgin olive oil. Today, chamomile is found as in ingredient in medicines in 26 countries.
The chamomile has antiseptic, anti-inflammatory, antibacterial, antispasmodic and slightly soothing properties.
Its healing properties come from volatile oils and flavonoids (especially the compound called apigenin). 
Chamomile liposoluble extrac soothes skin rashes and sunburns, reduces skin inflammation, accelerates healing and prevents infections.
The medical information on our website is not advice and should not be treated as such. You must not rely on the information on our website as an alternative to medical advice from your doctor or other professional healthcare provider.