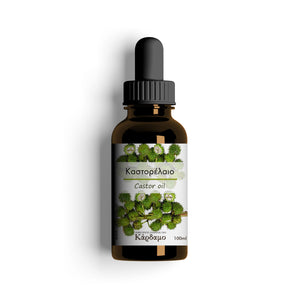 Ricinus Communis
Castor oil is has been used by mankind since the ancient times. It is produced from the seeds of the Ricinus plant.
It has a thick texture, it is odourless and has a light yellow colour.
Castor oil is penetrating and offers deep hydration and protects the skin from infections. It has a rich texture, moisturizes the epidermis and promotes wound healing. Castor oil is rich in fatty acids (ricinoleic acid), linoleic acid, oleic acid and vitamin E. These acids give castor oil its anti-inflammatory and anti-bacterial properties.
Castor oil is an excellent oil for massage especially for aching joints from arthritis and rheumatism. Castor oil treats fungal infections, acne, lichen, eczema, dry skin and irritation from solar radiation. The high vitamin E contained in it makes it an excellent oil against aging skin.
Castor oil is the most popular oil for hair care. It reduces hair loss, helps hydrate the hair, reduces hair dryness, stops dandruff and prevents split ends. Castor oil also strengthens eyebrows and eyelashes.
Castor oil can be consumed to relieve constipation thanks to its laxative action, but it should not be consumed at a long-term basis.
The medical information on our website is not advice and should not be treated as such. You must not rely on the information on our website as an alternative to medical advice from your doctor or other professional healthcare provider.