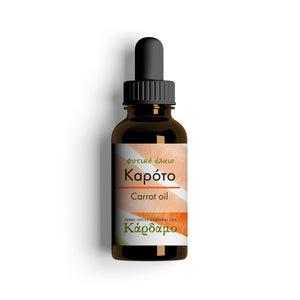 Country of origin: EU
Dropper bottle of 30ml
Carrot oil is an excellent oil with strong therapeutic properties that nourishes and protects the skin. It has powerful antioxidant action because it contains high levels of carotene. Carotene eliminates free radicals that damage both the structure and function of the cell membrane resulting in premature aging.
Carrot oil regenerates the skin and helps it maintain its elasticity. It soothes irritations, reduces itching, eliminates spots and protects against sunlight. At the same time it promotes tanning because it enhances the production of melanin.
Carrot oil is also beneficial for hair. It contains vitamins A, B, C, D, and E. It is used to treat dry scalp, and to make hair healthy and shiny. It eliminates split ends and protects hair from sunlight and sea salt during summer.
The medical information on our website is not advice and should not be treated as such. You must not rely on the information on our website as an alternative to medical advice from your doctor or other professional healthcare provider.