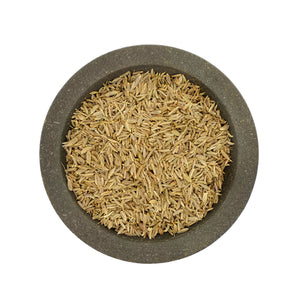 Carum carvi
Country of Origin: Germany
Caraway seeds comes from the biennial plant called Carum carvi, native in Asia and central and northern Europe but it has also been cultivated in North Africa, Canada and the US. Caraway is also known as Persian cumin.
Caraway seeds have a sweet, pungent aroma that resembles the aroma of anise or licorice. It has a peppery, bittersweet taste with notes of citrus fruits similar to orange peels. Caraway gives its characteristic taste to Kümmel liquer and also to the scandinavian spirit Akvavit.
Caraway seeds are used in European cooking to flavor certain types of bread such as rye bread and cakes, to flavor cheeses, sausages, soups and stews such as goulash. Caraway seeds can also be found in sauerkraut and coleslaw as they go well with cabbage. Caraway seeds are also good in meat recipes such as beef stew and roast pork. They can also be used to flavor baked apples or baked potatoes.
Caraway seeds combine best with fennel seeds, cardamom pods, sweet paprika, malawi peppers, greek oregano and greek thyme.